Welcome to Friesland
Stay in a Frisian farmhouse 1890
In the Fisian countryside 'De Greidhoeke'
With around the Frisian Historic Cities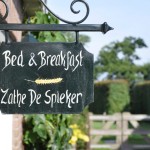 This place is in 15511 described as 'Oppe Spycker". A Spycker is a grain barn. The old name of this place has been restored by us, on the contemporary spelling.
Come and lean on our anti-stress fence
Circular walk  and cycling route from the B&B!
Click here for all events and exhibitions LF2018