Surroundings
Historical Frisian Eleven Cities
By car B&B Zathe De Spieker is 15-20 minutes away from four of the Historical Eleven Cities:
Leeuwarden,  home town of the Fries museum, Mata Hari, Keramiekmuseum Princessehof, the Oldehove and the Frisian Nassaus.
Franeker, is world famous because of the oldest and still working Planetarium of the world.
Sneek, famous because of Europe's largest inshore sailing regatta Sneekweek. Symbol of Sneek is the Waterpoort.
Bolsward, with its lovely city hall and canals.
With the train Leeuwarden-Stavoren you can visit the Frisian cities towards the coast of the IJsselmeer (IJlst, Workum – Jopie Huisman Museum-, Koudum, Hindeloopen en Stavoren) (boarding point train Mantgum, 7 km away from Itens).
Stavoren, the harbour and the statue of 'het vrouwtje van Stavoren'.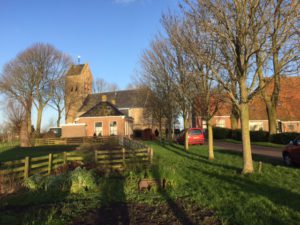 De Greidhoeke
Bed and Breakfast Zathe De Spieker is quietly located in the Frisian meadow area ' De Greidhoeke ' with large red and black tiled farms and picturesque terp villages connected by the Slachtedyk. From the B&B you will see the meadow bird areas Skrok and Skrins of Natuurmonumenten.
The picturesque villages have a rich cultural history, such as: – Jorwerd, famous by Geert Mak – Bozum, with the fresco of Jesus beardless in the Roman church – Wieuwerd, with the mummies and the Labadisten – Oosterend, with his Martine church – Lytsewierrum, the smallest village.

Cycling, walking, sail, swimming 
 
From the B&B there is the cycling route Skrok, Skrins en Lionserpolder (25 km) and a Circular walk (10,5  en 15,5 km) through the meadow bird areas and lovely villages. Or walk a stretch of the Jabikspaad or Slachtedyk 
It is also wonderful to tour the villages by car. You can also rent a boat and sail to Franeker or Sneek at the nearby campsites. Or swim in the Outdoor pool De Klomp in Wommels. A Recreation card with the cycling nodes network, Jabikspaad and Slachtedyk is waiting for you.
You can rent bicycles and E-bikes at our place. Please reserve in advance.
Also nice to visit are the Frisian stinzen en staten as:
Martenahuis at Franeker
Unia state at Bears
Dekemastate at Jelsum
Poptaslot at Marssum
Liauckamastate at Sexbierum
You will find the stinzen distinctive flora.

Brocante
Or discover the smal shops in the environment with a tearoom and brocante.
Food and drink
In the surrounding villages (Easterein, Wommels, Easterlittens, Easterwierum) are within cycling distance (1,2 tot 5,8 km) several restaurants, cafes, takeaway chinese and teahouses with terraces. Then there is a variety of restaurants in Sneek, Bolsward, Franeker and Leeuwarden.
In Wommels is a supermarket, bakery and butcher. In our dining room you can use microwave, fcrockery and cutlery.
Islands
From Harlingen you can in a day back en forth to the islands Terschelling, Vlieland, Ameland and Schiermonnikoog.
Stavoren – Enkhuizen
Or take the boat Stavoren – Enkhuizen and visit the Zuiderzeemuseum in Enkhuizen.